Music
Music Workshop 2018 (The Crescendo Trust of Aotearoa) Ngahuru
To encourage learning and the sharing of music knowledge and skills in a fun, accessible and friendly environment and foster a community of co-operative, well engaged youth who have a sense o
View dates
Tue, 17 Apr at 4:30PM
Thu, 19 Apr at 4:30PM
Tue, 24 Apr at 4:30PM
Thu, 26 Apr at 4:30PM
Tue, 1 May at 4:30PM
Thu, 3 May at 4:30PM
Tue, 8 May at 4:30PM
Thu, 10 May at 4:30PM
Tue, 15 May at 4:30PM
Thu, 17 May at 4:30PM
Tue, 22 May at 4:30PM
Thu, 24 May at 4:30PM
Tue, 29 May at 4:30PM
Thu, 31 May at 4:30PM
Tue, 5 Jun at 4:30PM
Thu, 7 Jun at 4:30PM
Tue, 12 Jun at 4:30PM
Thu, 14 Jun at 4:30PM
Tue, 19 Jun at 4:30PM
Thu, 21 Jun at 4:30PM
Tue, 26 Jun at 4:30PM
Thu, 28 Jun at 4:30PM
Tue, 3 Jul at 4:30PM
Thu, 5 Jul at 4:30PM
Tue, 10 Jul at 4:30PM
Thu, 12 Jul at 4:30PM
Tue, 17 Jul at 4:30PM
Thu, 19 Jul at 4:30PM
Tue, 24 Jul at 4:30PM
Thu, 26 Jul at 4:30PM
Tue, 31 Jul at 4:30PM
About
Crescendo will deliver weekly mentoring sessions where young people have the opportunity to develop their musical abilities with the support of a professional from the music industry. To encourage learning and the sharing of music knowledge and skills in a fun, accessible and friendly environment and foster a community of co-operative, well engaged youth who have a sense of ownership of the space.
We work with young people that have no musical knowledge right through to highly talented and educated musicians. Wear loose clothing.
The Crescendo Trust of Aotearoa
The Crescendo Trust of Aotearoa uses music, film and photography to connect and re-engage our young people (12 - 24) into education, employment and training. Songwriting, Production, beat making, YouTube videos, Facebook pages, music for Soundcloud are some of the services we provide for free to our community.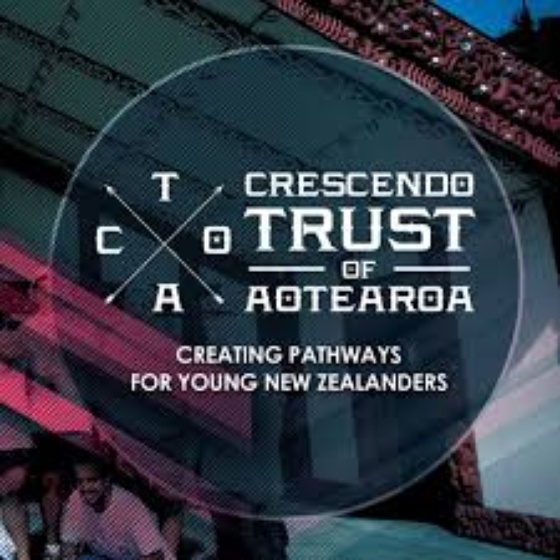 The Crescendo Trust of Aotearoa
Maungakiekie-Tamaki Local Board