Perform
Ronald Dahl's The Twits
A witty, twitty Roald Dahl creation
Wed, 25 Oct at 10:30AM
Ages All ages
Free
View dates
Wed, 25 Oct at 10:30AM
Wed, 25 Oct at 1PM
Thu, 26 Oct at 10:30AM
Thu, 26 Oct at 1PM
Fri, 27 Oct at 10:30AM
Fri, 27 Oct at 1PM
Sat, 28 Oct at 10:30AM
Sat, 28 Oct at 1PM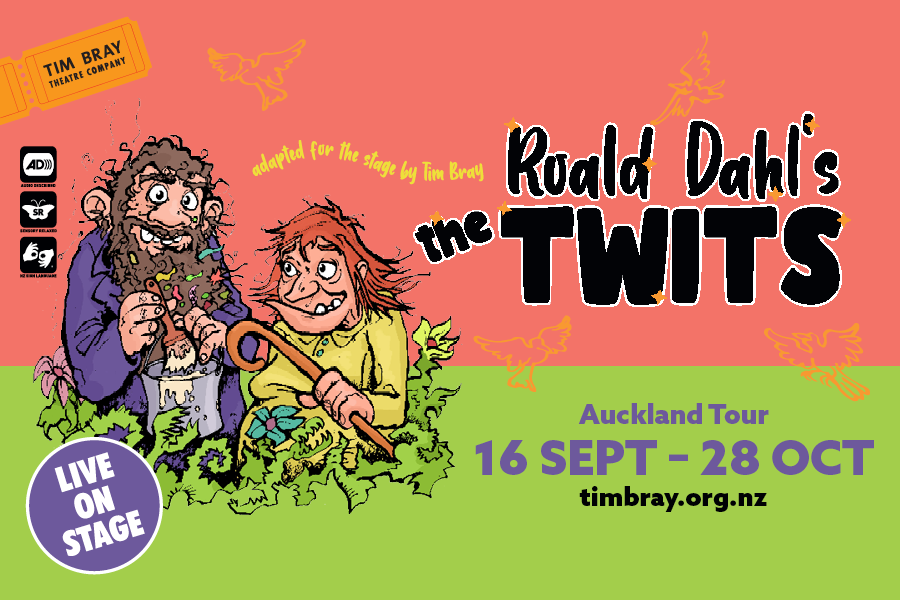 About
Roald Dahl's The Twits is coming!
Roald Dahl continues to delight readers of all ages, and now Tim Bray Theatre company brings this iconic story to you live on stage at Te Oro from 25-28 October, 2023!
Giggle and gasp at the antics of Mr and Mrs Twit, a hideous and hilarious couple who love to play nasty pranks on each other and their pet monkeys, the Muggle-Wumps. Glass eyeball in your drink anyone? How about worm spaghetti made with real worms? And bird pie made with real … you get it. Ugghh! Luckily, when Mr Twit tries to create the world's first Great Upside Down Monkey Circus, the Twits get a dose of their own nasty medicine.

A brilliantly entertaining show for Roald Dahl fans of all ages.

Review: "Tim Bray has directed another engaging piece of old-school family theatre… Plenty of clever jokes, stupid jokes, audience participation games and sing-along numbers make for a fulfilling hour's theatre." Nik Smythe, Theatreview

Tim Bray 2022 MAIN
To understand the power, the importance, of children's theatre. Watch children watching a Tim Bray Theatre Company show. This is not a passive amusement. On the edge of their seats, these children are immersed: transported, joyful, fearful, anticipating, calling out, cheering. Precisely as intended, they are playing their part in the performance. Engaging their imaginations.
Established in 1991, Tim Bray Theatre Company is Aotearoa's longest running professional children's theatre company. Dedicated to inspiring audiences through the power of imagination, by making theatre for children aged 3 to 10 years and their families
For 30 years, Tim Bray Theatre Company has created original stage shows based on acclaimed local and international children's books. With a history of innovation and excellence, in 2020 they have been acknowledged by Arts Access Aotearoa for their contribution to creating accessible theatre for all, an indispensable asset to Auckland.
Tim Bray Theatre Company has delivered 100 original productions, toured New Zealand and to Edinburgh, performed to the The Prince of Wales and The Duchess of Cornwall To celebrate The Queen's Jubilee in 2012 and reached hundreds of thousands of children. We now have adults who attended our shows when they were children, bringing their own children to our shows.
Alongside Tim Bray Theatre Company's theatre productions is the company's deep commitment to creative learning and social outreach through their Youth Theatre programme, delivering drama classes for children and young people aged 5 – 19 across Auckland.
As a registered charitable trust, we rely on donations from individuals and funding from organisations to ensure we can continue to deliver our programmes. By making a donation you will help support the vision of our theatre company.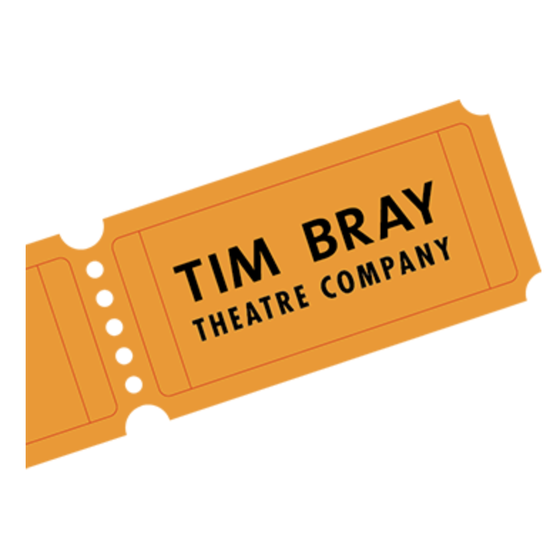 Tim Bray 2022 MAIN
Maungakiekie-Tamaki Local Board