Music
Studio Sessions 2019 (The Crescendo Trust of Aotearoa)
One on one studio sessions with young artists ready to record (have demos)
Tue, 20 Aug at 10AM
Please book time with Dave direct
Ages 12-24
Free
View dates
Mon, 15 Oct at 10AM
Tue, 16 Oct at 10AM
Mon, 22 Oct at 10AM
Tue, 23 Oct at 10AM
Mon, 29 Oct at 10AM
Tue, 30 Oct at 10AM
Mon, 5 Nov at 10AM
Tue, 6 Nov at 10AM
Mon, 12 Nov at 10AM
Tue, 13 Nov at 10AM
Mon, 19 Nov at 10AM
Tue, 20 Nov at 10AM
Mon, 26 Nov at 10AM
Tue, 27 Nov at 10AM
Mon, 3 Dec at 10AM
Tue, 4 Dec at 10AM
Mon, 10 Dec at 10AM
Tue, 11 Dec at 10AM
Mon, 17 Dec at 10AM
Tue, 18 Dec at 10AM
Mon, 24 Dec at 10AM
Tue, 25 Dec at 10AM
Mon, 31 Dec at 10AM
Tue, 1 Jan at 10AM
Mon, 7 Jan at 10AM
Tue, 8 Jan at 10AM
Mon, 14 Jan at 10AM
Tue, 15 Jan at 10AM
Mon, 21 Jan at 10AM
Tue, 22 Jan at 10AM
Mon, 28 Jan at 10AM
Tue, 29 Jan at 10AM
Mon, 4 Feb at 10AM
Tue, 5 Feb at 10AM
Mon, 11 Feb at 10AM
Tue, 12 Feb at 10AM
Mon, 18 Feb at 10AM
Tue, 19 Feb at 10AM
Mon, 25 Feb at 10AM
Tue, 26 Feb at 10AM
Mon, 4 Mar at 10AM
Tue, 5 Mar at 10AM
Mon, 11 Mar at 10AM
Tue, 12 Mar at 10AM
Mon, 18 Mar at 10AM
Tue, 19 Mar at 10AM
Mon, 25 Mar at 10AM
Tue, 26 Mar at 10AM
Mon, 1 Apr at 10AM
Tue, 2 Apr at 10AM
Mon, 8 Apr at 10AM
Tue, 9 Apr at 10AM
Mon, 15 Apr at 10AM
Tue, 16 Apr at 10AM
Mon, 22 Apr at 10AM
Tue, 23 Apr at 10AM
Mon, 29 Apr at 10AM
Tue, 30 Apr at 10AM
Mon, 6 May at 10AM
Tue, 7 May at 10AM
Mon, 13 May at 10AM
Tue, 14 May at 10AM
Mon, 20 May at 10AM
Tue, 21 May at 10AM
Mon, 27 May at 10AM
Tue, 28 May at 10AM
Mon, 3 Jun at 10AM
Tue, 4 Jun at 10AM
Mon, 10 Jun at 10AM
Tue, 11 Jun at 10AM
Mon, 17 Jun at 10AM
Tue, 18 Jun at 10AM
Mon, 24 Jun at 10AM
Tue, 25 Jun at 10AM
Mon, 1 Jul at 10AM
Tue, 2 Jul at 10AM
Mon, 8 Jul at 10AM
Tue, 9 Jul at 10AM
Mon, 15 Jul at 10AM
Tue, 16 Jul at 10AM
Mon, 22 Jul at 10AM
Tue, 23 Jul at 10AM
Mon, 29 Jul at 10AM
Tue, 30 Jul at 10AM
Mon, 5 Aug at 10AM
Tue, 6 Aug at 10AM
Mon, 12 Aug at 10AM
Tue, 13 Aug at 10AM
Mon, 19 Aug at 10AM
Tue, 20 Aug at 10AM
Mon, 26 Aug at 10AM
Tue, 27 Aug at 10AM
Mon, 2 Sep at 10AM
Tue, 3 Sep at 10AM
Mon, 9 Sep at 10AM
Tue, 10 Sep at 10AM
Mon, 16 Sep at 10AM
Tue, 17 Sep at 10AM
Mon, 23 Sep at 10AM
Tue, 24 Sep at 10AM
Mon, 30 Sep at 10AM
Tue, 1 Oct at 10AM
Mon, 7 Oct at 10AM
Tue, 8 Oct at 10AM
Mon, 14 Oct at 10AM
Tue, 15 Oct at 10AM
Mon, 21 Oct at 10AM
Tue, 22 Oct at 10AM
Mon, 28 Oct at 10AM
Tue, 29 Oct at 10AM
Mon, 4 Nov at 10AM
Tue, 5 Nov at 10AM
Mon, 11 Nov at 10AM
Tue, 12 Nov at 10AM
Mon, 18 Nov at 10AM
Tue, 19 Nov at 10AM
Mon, 25 Nov at 10AM
Tue, 26 Nov at 10AM
Mon, 2 Dec at 10AM
Tue, 3 Dec at 10AM
Mon, 9 Dec at 10AM
Tue, 10 Dec at 10AM
Mon, 16 Dec at 10AM
Tue, 17 Dec at 10AM
About
* One on one studio sessions with young artists ready to record (have demos)
* if you're in school - You and your music class can have two sessions of beat making and record a song of their choice (could be a cover )
* anyone from 12 - 24 can book a studio session.
* every session is 90 minutes - 2-hour slots.
* contact Dave (dave@ctoa.co.nz) to make bookings and cancellation must be in 24 hours before your session.
* High school students could use their work at Te Oro for their Music Composition and Music Performance marked by their teachers.

The Crescendo Trust of Aotearoa
The Crescendo Trust of Aotearoa uses music, film and photography to connect and re-engage our young people (12 - 24) into education, employment and training. Songwriting, Production, beat making, YouTube videos, Facebook pages, music for Soundcloud are some of the services we provide for free to our community.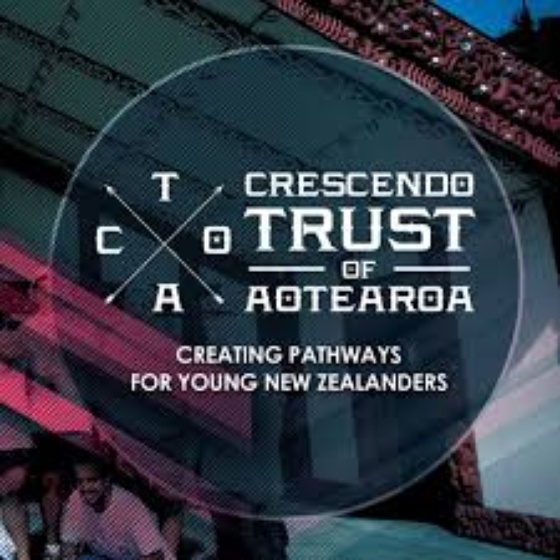 The Crescendo Trust of Aotearoa
Maungakiekie-Tamaki Local Board