Visual Art
Meditative Art
Meditative Art is a 6-week course that combines freedom of art expression and meditation practice to creatively embrace our body, mind, soul.
Thu, 14 Dec at 10AM
Ages ADULTS ONLY
Free
View dates
Thu, 9 Nov at 10AM
Thu, 16 Nov at 10AM
Thu, 23 Nov at 10AM
Thu, 30 Nov at 10AM
Thu, 7 Dec at 10AM
Thu, 14 Dec at 10AM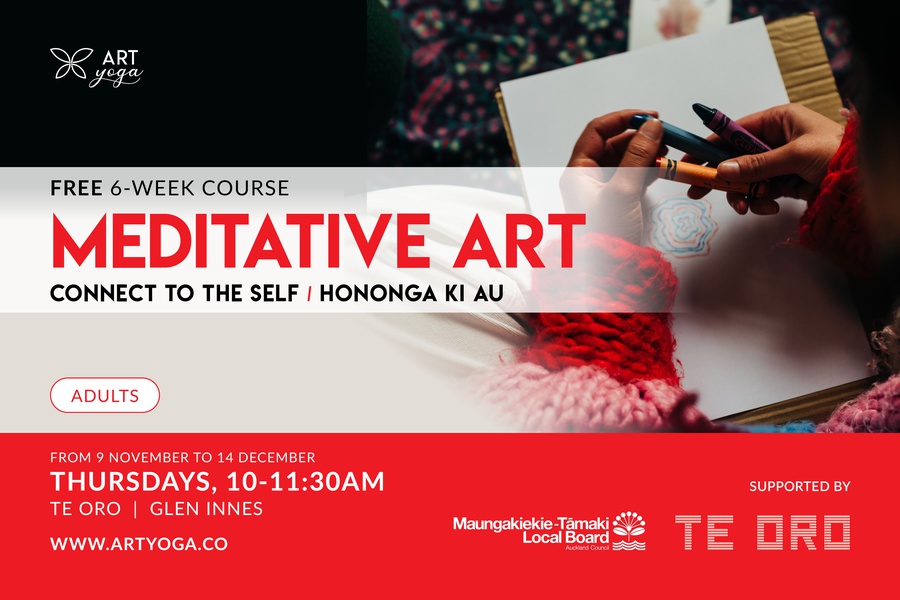 About
Our artistic and holistic approach has the purpose to provide community integration and well-being. This project offers a possibility to open ourselves up to creativity and self-awareness in order to nourish our inner artist for personal clarity and authenticity.
Each session is divided into welcome, discovering activities, sharing and farewell.
We explore a different topic on the self during every practice: self-connection, self-exploration, self-care, self-love, self-esteem, self-realization and concluding with gratitude.
We offer several courses running from Term to Term such as Foundation, Continuing the journey, Deepening and Interactive.
The aim of our project is to assist people to restore, align and empower themselves in order to become a strong individual with a life purpose.
Using drawing, painting and collage we explore and learn about ourselves and how to express our thoughts and feelings through a variety of art activities and meditation practices. Art and Yoga give us strength and the courage to reconnect with our inner space.
Everybody has the potential to be creative, whatever form that creativity takes. The overall process of creativity, regardless of the medium, can promote an improved mental state and enhance emotional regulation.
Meditative Art offers creative alternatives to connect with oneself and others, increasing people's ability to express themselves and communicate with others, providing a visual means of communication.
Art can communicate with us in ways that words alone cannot. It can be enlightening, uplifting, challenging, informative, arresting and amusing. It can offer insights, share memories, suggest new ideas and work therapeutically, supporting emotional, behavioral or mental-health awareness and regulations.
The engagement with art and cultural practice has tangible benefits not only for mental health, but for general mood and quality of life. This will improve both mental and physical health, to have a positive impact on people's well-being and to experience greater life satisfaction and lower levels of mental distress.
This project is an integration of Therapeutic Art techniques blended with Yoga Philosophy, that provides a safe place for everyone to explore themselves and be supported on their journey. The intention of these sessions is to offer a creative way to connect to one another, reducing stress and anxiety, and improving self-esteem.
Te Oro
The long-held community dream of a music and arts centre for young people in Glen Innes is here.
In this multi-purpose space, young people and the local community can come together to perform, practise and learn the arts; express their creativity and talents; and celebrate their cultures.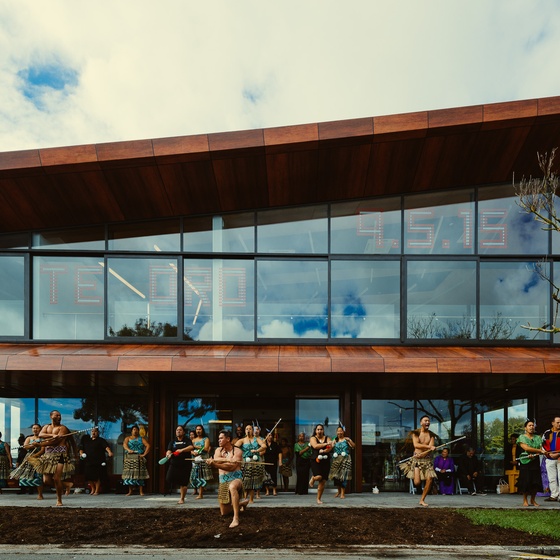 Te Oro
Maungakiekie-Tamaki Local Board